---
---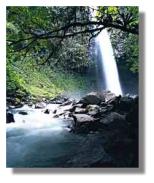 ---
Economic Indicators
GDP 2002 in millions of US$:

$16,841

Per capita GDP (2002):

$ 4,130

Export growth 2002:

9.1%

Import growth 2002:

3.1%

Devaluation rate 2002:

9.9%

Inflation rate 2002:

10.1%

Inflation rate 2003*:

11.2%

* Official Estimate
Industries

Electronics, food processing, apparel, medical devices, construction materials, plastic products.

Main Imports

$6.3 billion total: Industrial raw materials, petroleum, industrial capital goods, durable consumer goods, chemicals, etc.

Main Exports

Total goods: $6.6 billion: electronic components, textiles, bananas, coffee, pineapples, telephone equipment, medicines, fish and seafood, etc.

Major revenue generator in 2002: Tourism, with US$ 1052 million. Tourist arrivals in 2002: 1,127,462

Globalization

• Full member of the WTO.
• Costa Rican products enter the United States free of duties under the CBI.
• Free Trade Agreement with Mexico.
• Full member of the Central American Common Market.
• Active involvement in the implementation of the Free Trade Area of the Americas.

General Statistics

• 2002 unemployment rate: 6.0%
• 2002 underemployment rate: 7.8%
• Total 2002 labor force: 1,300 thousands
• Economically active population (2002): 40.5%
• Percentage of Total Employed Population by Sex (2001): Men: 69.2%, Women: 30.8%
• Employment by Sectors

| | |
| --- | --- |
| Industry and construction: | 23.1% |
| Commerce and transport: | 26.4% |
| Agriculture and mining: | 19.9% |
| Services: | 30.1% |
GREAT POTENTIAL:
Costa Rica is among the top 30 leading exporters of high-tech products (Human Development Report, 2001).
The UNCTAD in its 2002 World Investment Report classified Costa Rica as one of the six most successful countries in the attraction of the FDI. Also in the E-commerce and Development Report 2002, states that Costa Rica can potentially enhance export competitiveness and produce high value-added services that gives a major boost to the local economy. At the same time, the growth of the domestic IT industry has led more and more firms to use ICT in their business activities, enabling them to move rapidly into e-commerce, e-banking and e-tourism.
According to the Economist Intelligence Unit, San José is the city with the best quality of life in Latin America, The study also highlights Costa Rica as the country with the longest uninterrupted democracy government.
In a context of sustainable development Costa Rica is ranked 9th out of 142 countries in the Environmental Sustainability Index (World Economic Forum, 2002)

MAIN EXPORTS:
Electronic components, textiles, bananas, coffee, medical devices, pineapples, foliage and ornamentals, fish and seafood, processed foods.


STANDARD OF LIVING INDICATORS
Life expectancy: 76.1 years
Literacy rate: 95.5%
Educational Institutions: 6147 primary and secondary schools and 50 universities
Education expenditures: 5% of GDP (2002).
Youth literacy: 98.3%
Population served with piped water: 99%
Public health services coverage: 90.4% of population
Health expenditures: 27.8% of government budget
Access to telephone service: 92% of population
According to the United Nations' Human Development Index (HDI) for 2002, Costa Rica has one of the highest ratings among developing nations:


| | |
| --- | --- |
| United States | # 6 |
| Ireland | # 18 |
| Singapore | # 25 |
| COSTA RICA | # 43 |
| Mexico | # 54 |
| Malasya | # 59 |
---